경험 많고 실적 좋은 최고의 뉴저지 부동산 에이전트를 찾고 계신가요?
리얼터 대니윤은 그룹 mynjhomes.com의 팀 리더입니다.
뉴저지 부동산 에이전트 중에서도 가장 많은 실적을 올린 에이전트에게만 주어지는 Circle Of Excellence 플래티넘 레벨 수상자이기도 합니다.
2022년 Circle Of Excellence 플래티넘 레벨상은 대략 만여명의 북부 뉴저지 에이전트들중 단 100명만이 수상을 한 상입니다.
최근 3년동안 150건 이상의 계약을 성공적으로 성사를 시켰고 이는 업계 평균의 5배 정도에 달하는 실적입니다.
RealTrend America's Best Rankings에는 전국 상의 1.5프로에 속했고
미국에서 가장 큰 부동산 기업인 Realogy안에서도 전국 상위 1.5프로에 속했습니다.
2020년부터 2022년까지 Bergen Magazine으로부터 Top Agent으로 선정되었습니다.
"Danny was amazing! Thank you so much for your hard work. Cannot say enough amazing things about him."
"Danny was an absolute pleasure to work with. He is extremely dedicated and seeks out the best for his clients. Highly recommended."
"Danny is the best realtor and we highly recommend! My husband and I just bought a house through him and we are very impressed with his quick turnaroun
…
Read More
d time & expertise. As we are first time homebuyers, we were searching with no luck/no know how's until we met Danny. There is no denying his extensive knowledge when it comes to real estate. As I am pretty picky with the certain layout & interior of the house, Danny picked up my desired style right away and was able to show me a couple houses that I really liked which made the whole process extremely efficient. His long career in this industry also was beneficial as he was able to recommend & refer others for miscellaneous home details. If we decide to move to another home in the future, I am comforted by the fact that we can trust in Danny again. Thanks so much!"
Read Less
"Danny Yoon is unrivaled when it comes to the home selling experience. He is professional, adept, and always keeps your needs in mind. I highly recomme
…
Read More
nd Danny. His honesty and integrity make the process of selling a home run smoothly. Danny was always available whenever I needed an answer or advice. I cannot say enough wonderful things about him. He is a consummate professional."
Read Less
"Danny is a fantastic real estate professional. He was able to provide valuable insights and recommendations that helped me make informed decisions. D
…
Read More
anny was always available to answer my questions and concerns, no matter how busy he was. He made me feel like a priority and went above and beyond to make sure I had everything I needed. One of the things I appreciated most about Danny was his honesty and integrity. He always had my best interests at heart and never tried to push me into a decision that wasn't right for me. I highly recommend Danny to anyone looking for a professional, reliable, and trustworthy realtor."
Read Less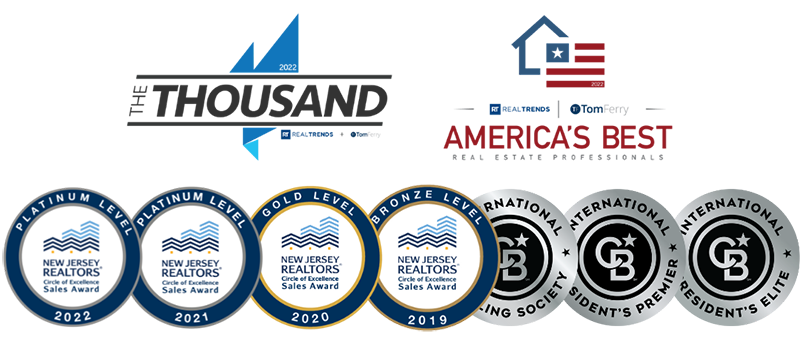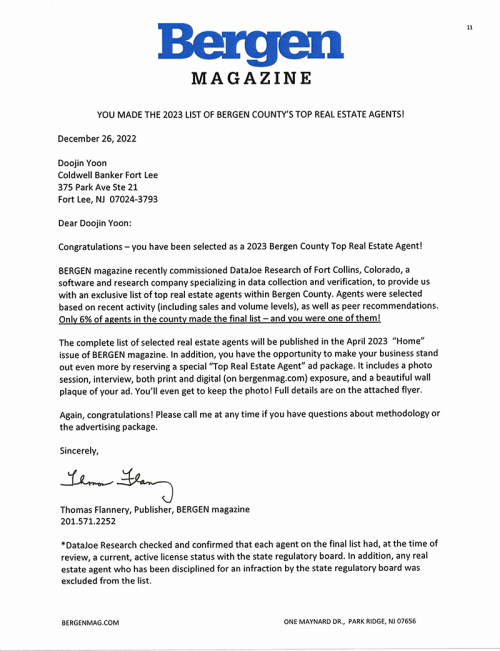 주택, 콘도, 타운 하우스 및 상업 부동산의 모든 것을 도와 드립니다.
Edgewater, New Jersey
Fort Lee, New Jersey
Tenafly, New Jersey
Port Imperial (West New York & Weehawken)
Palisades Park, New Jersey
Closter, New Jersey
Bergen County
Hudson County
Contact Information:
Prominent Properties
Sotheby's International Reatly
2 Main St, Ste F, Edgewater, NJ 07020
Send us a message
We will contact you as soon as possible to learn how we can best service your needs.